Parking Area Information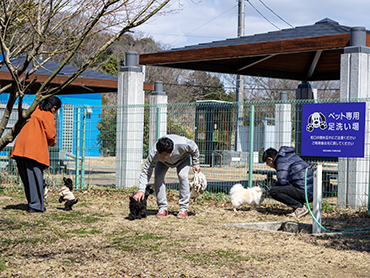 Mihama Parking Area (Minamichita Road Outbound)
Mihama Parking Area is the parking area between Taketoyo IC and Mihama IC on Minamichita Road Outbound. The visitor can use the parking lot, toilet, vending machine, telephone and free Wi-Fi on 24 hours.
| | |
| --- | --- |
| Location | Outbound between Taketoyo IC <--> Mihama IC (For Toyooka IC) |
| Facilities | Vending machine / toilet / telephone |
| Toilets | Men: flush toilet 3 urinal 10 / women: 13 / handicapped: 1 |
| Parking | Standard size car 78 / large size car 15 (included large trailer 3) / for handicapped 2 |
| Telephone | 1 |
Vending Machine
Mihama PA is introduced the vending machine with free Wi-Fi. The visitor can use it by smartphone, tablet PC or something. Please be careful of security when using it and feel free to use it.
Dog Run
Available time: 9:00 AM to 5:00 PM (in winter, until 4:00 PM)
The ground where the lawn and the soil are mixed prepare 2 division for small dogs and medium dogs. There is a foot wash in each division. It's a ground where many trees are arranged. It's available free of charge.
Rest / Information Center
Available time: 9:00 AM to 5:00 PM (locked during the out-of-service hours)
There is a bench in the room and visitors can use it for a break of the drive. As tourist information, PA usually set up travel brochures of Mihama cho and Minamichita cho.